Why Crying is Good for You and
How to Let It All Out
You've asked yourself this question many times before:
"Is it okay to cry?"
Because you've been told crying is a sign of weakness. You're a tough cookie and shouldn't let the little things knock you down.
Because you've been told crying shows incompetence. Other people in your situation are cruising along just fine. No sweat. Easy-peasy. If you cry, it means you're less capable.
And because you've been told crying is not good for the soul. You're letting yourself down for allowing yourself to feel down. It doesn't help that every time you scroll through social media, you're bombarded with endless pictures of beautiful women grinning from ear-to-ear. You wonder why you don't feel the same way and you question if there's something wrong with you. You feel guilty for being in a lousy mood.
Not to mention any time you cry, somebody is always there to hand you a "just be positive" remark like it's free candy. Ugggh.
So you tell yourself to "get over it". You swallow the tears back down and you pretend you're okay. You're convinced if you keep smiling, you're going to feel better.
But you don't feel any better. In fact, it hurts even more.
Hey, it doesn't have to be this way—you don't have to hold your tears back.
It's okay to cry.
Crying Makes You Human
Did you know that humans are the only species that weep? No other animal on this planet cries like we do.
Crying then, is a unique part of the human experience.
Crying also connects us to one another.
When we're young, we cry as a way to communicate distress we can't yet describe—hunger, restlessness, or a soggy bottom. As we get older, we learn to cry not only over our own suffering, but the suffering of others as well. Even those we don't know.
Just think of the last time your eyes welled up at the sight of orphaned children on TV or when a fictional character we like was about to die.
Any time we see someone cry, we feel something tug at our hearts; it makes us want to reach out and offer comfort.
It's called empathy. And Psychologists view it as a trait that defines humanity.
Crying—in essence—makes us human.
So don't hide your face in shame. Don't feel bad. And never apologize. When you cry, you're just being human.
Crying is Good for You, Really!
Forget everything you've been told about crying.
Crying is not a sign of weakness, incompetence, or an inability to handle stress. There's nothing wrong with you if you feel like bawling your eyes out.
Crying is actually good for your body and soul.
Don't believe me? Here are just a few of the many benefits of crying:
It detoxifies your body by removing toxins.
It relaxes you by flushing excess stress hormones out of your body.
It releases feel-good chemicals such as oxytocin and endorphins that reduce pain.
Crying boosts your mood. You ever notice how you feel "lighter" after a good cry?
According to Traditional Chinese Medicine, suppressing negative emotions can slow down and stall the flow of qi—a vital life force that powers our body. This can lead to physical and mental ailments such as fatigue, headache, insomnia, and depression. Crying is a way to release those negative emotions and prevent the stagnation of your qi.
Now you know the amazing benefits of crying, why not have a good cry and let it all out?
And believe it or not, there are things you can do to maximize the benefits you get from crying. Today I'm sharing 9 tips that will help you have a good cry and feel better afterward.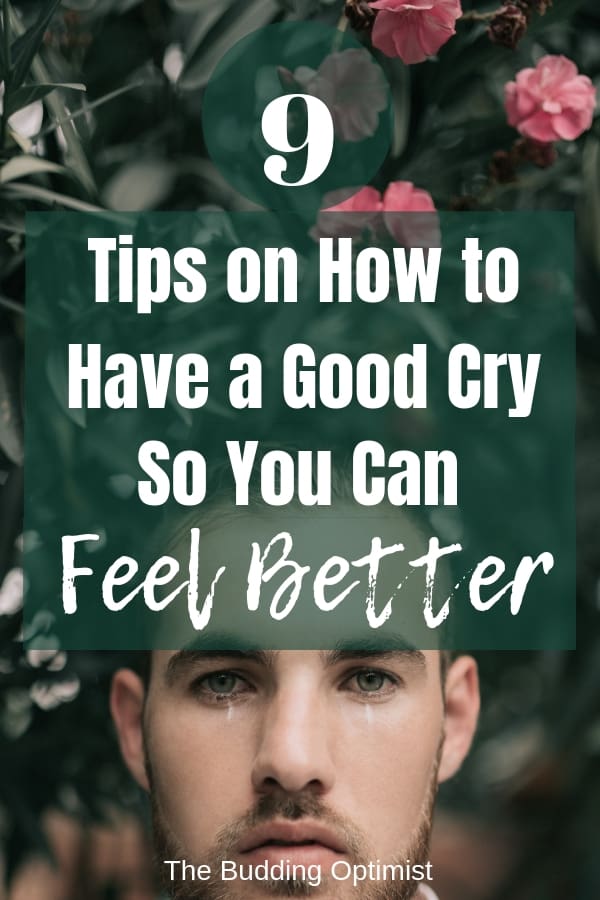 9 tips to help you have a good cry so you can start feeling better.
9 Tips to Help You Have a Good Cry
1. Get comfortable
Find a place where you're going to feel secure enough to let your guard down. It can be alone or with someone you feel at ease with. Although there's nothing wrong with crying in public, you're probably not ready to cry your heart out in front of strangers. So find a place where you feel safe.
Now relax. Kick your heels off and let your hair down. And if you can, wear something loose or remove restrictive clothing. I once had a big cry in a super tight dress and let me tell you—it wasn't fun. I felt like I couldn't breathe and almost had a panic attack. My ribs were sore for days!
So get comfortable.
2. Acknowledge and accept your emotions
If you want to have a good cry, first you need to acknowledge and accept your emotions.
Don't beat yourself up for feeling the way you do. Don't tell yourself "I'm such a mess" or wonder what people will think of you. And if you're going to cry in front of somebody, don't apologize for crying, no matter how tempting it is to say "I'm sorry".
Because crying is beautiful, sacred, and human; you deserve to have a good cry without the burden of guilt, shame, or self-pity. So embrace whatever feelings you have that make you want to cry.
3. Use Prompts to Help You Cry
You ever feel like you want to cry, but no tears come out?
There's a dull ache in your chest, a heaviness that weighs you down. You want to get it out of you but you can't.
I've been there. I've gone through periods in my life when I couldn't cry, even though every inch of me ached with sadness. When you're used to dismissing difficult emotions, or your life is in such chaos that all you can think about is surviving through the day, tears don't always come when you want them to.
If you need a little help getting the tears flowing, try using a prompt. It could be a sentimental film, a sad song, or a vivid piece of emotional memory.
4. Cry out loud
If you're going to have a good cry, then go all out.
Don't cover your mouth, stifle your sniffles, or whimper softly like a mouse. Instead, let it all out as loud as you can. Wail at the top of your lungs like the way you did when you were a child—before you learned it was "uncool" to cry like that. I promise you'll find it liberating.
A good place to do this is in the shower. There's a reason why it's one of the most popular places to cry both for people in real life and for fictional characters on screen. It's a comforting and relaxing place to let it all out without worrying about the snot and mascara running down your face, or whether your neighbours are going to hear you.
5. Let the crying run its natural course
A typical crying session lasts about 5-6 minutes, but that's just an average. If you cry for longer than that, that's okay. You don't need to restrain yourself. But if your tears dry up after only a couple of minutes, don't keep digging for more.
If you don't suppress your tears, eventually your crying will run its natural course. You'll feel a calmness wash over you as your breathing slows and your body loosens. That's your body's way of telling you it's time to move on.
Listen to your body.
And here's why:
While crying can be an incredibly freeing experience—one that leaves you with a sense of clarity and renewed energy—crying too much at once can leave you feeling tired rather than rejuvenated.
Don't go chasing after them by revisiting the same sad memories over and over, or binge-watching sentimental films on Netflicks. They work great as prompts to get your tears going, but after they've served their purpose, you need to put them away—until next time you need a good cry.
So cry your heart out, but don't keep crying for hours on end.
The best way to deal with emotions is to feel their fullness while they're present and then let them pass.
6. Take deep breaths
Remember to take deep breaths when you're crying.
Strong emotional experiences often disrupt our breathing patterns and we end up taking many shallow, quick breaths without even realizing it. This can lead to anxiety, dizziness, and headaches.
So make sure you take long and full breaths in between sobs. Here's a fantastic deep breathing method to help you do that. It's called the "box breathing technique":
Inhale for 4 seconds through your nose, inflating your lungs and belly.
Hold your breath for 4 seconds when you've taken in a full breath.
Exhale for 4 seconds through your nose.
Pause for 4 seconds once you've completely expelled all the air from your lungs and belly.
Repeat the above steps at least 4 times.
7. Stay hydrated
It's a good idea to replenish your body with lots of water after you've had a good cry. Not only will it help keep those pesky "post-cry" headaches at bay, drinking water is also a great way to soothe your muscles and cool you down—exactly what you need after a full-throttle crying session.
8. Maximize relaxation with a good stretch
Crying is an excellent way to relax the body and mind. And you can maximize that relaxation effect by doing some stretching exercises after you cry.
Now here's a wonderful little stretching exercise you can do right after you dry your eyes. It specifically targets the neck and shoulders because that's where you'll likely feel the most tension after a good cry:
9. Massage this spot on your feet
You know that "relieved" feeling you'd get after a good cry? What if I told you there's a spot on your body you can massage to enhance that feeling?
You can find this point on your feet, in the fleshy part between your big toe and second toe.
This acupressure point will help you feel relaxed, calm, and relieved, especially after you've had a good cry.
Here's how to massage this spot:
Apply firm pressure to this spot with the tip of your thumb.
Massage in a circular motion for 5 seconds.
Without releasing your thumb, push your thumb out and away from your body.
Repeat the above steps for 5 minutes after you've had a good cry.
You'll be surprised how good it'll make you feel.
What is this, you ask? It's called "acupressure"— a healing technique with origins in Traditional Chinese Medicine (TCM).
This point I just showed you—called "taichong"—is known for its cleansing properties and stress-relieving benefits. Massaging this point will you get rid of tension and any pent-up emotions still remaining in your body.
When was the Last Time You Had a Good Cry?
I had a good cry the day I finished writing this post. It was not a good day—my dodgeball team lost yet another season playoff game, and after toiling in the kitchen for almost 2 hours after the game, I had nothing but a complete disaster to show for dinner.
Years ago I would have told myself this was peanuts compared to the "real problems" in the world. I would have felt terrible for letting things like this get to me. And I would have tried to wave away any negative emotions as if they're worthless. But not anymore. Now I know it's okay to feel upset when things aren't going right. It doesn't mean I'm weak or incompetent. And it doesn't mean I'm giving up.
I know now that all of my emotions have value. Some of them may not be pleasant, but they all teach me certain lessons about life, and show me what it means to be human.
So I cried my heart out in the comforting warmth of a shower. Even though it was only for a brief few moments, it made me feel better.
Now your turn. Tell me, when was the last time you had a good cry?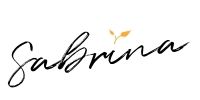 Related Articles in Mindset and Mental Health:
15 Natural Ways to Combat Seasonal Depression
11 Apps That Will Benefit Your Mental Health