The Rain Putting a Damper on Your Romance? Affordable Rainy Day Date Ideas to the Rescue!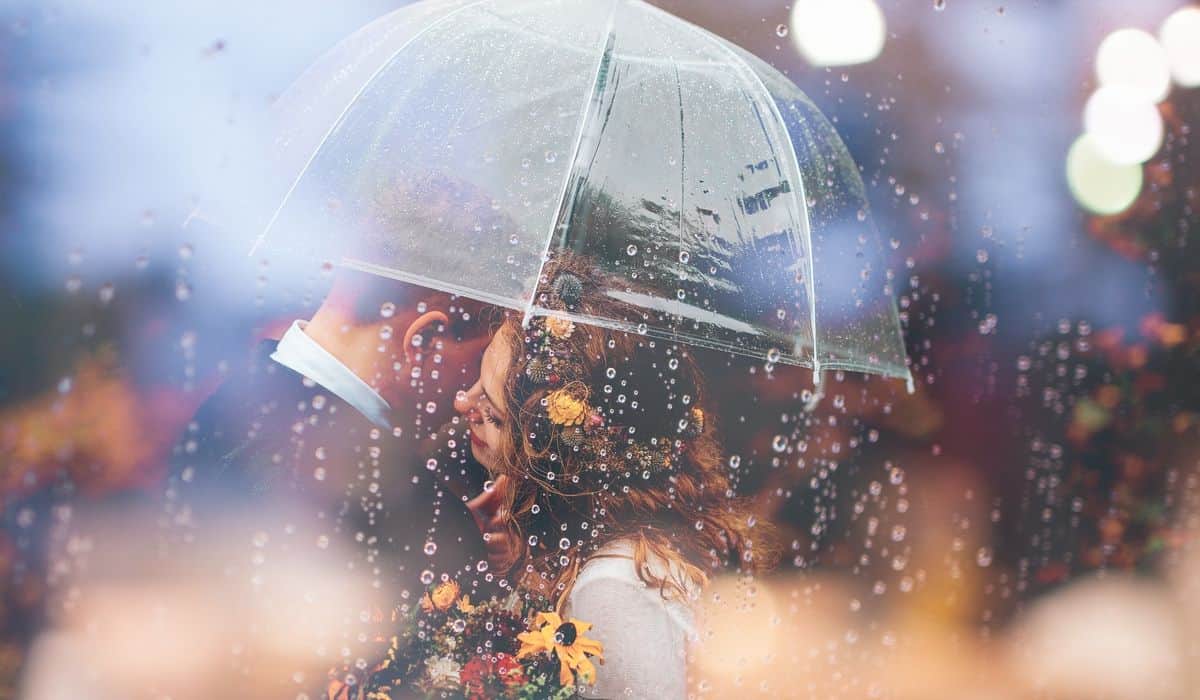 Looking for something romantic to do on a rainy day?
Let me guess: you're sick of the movies. Netflix doesn't feel special enough. But you don't want to blow your grocery budget for the week on another fancy dinner.
Oh, I feel your pain.
"What to do on a rainy day" is a question my husband and I face constantly. You see, we live in a region of Canada where the forecast becomes a monotonous and predictable shuffle between cloudy and rainy from mid-September onwards until early May of the next year. And since we're trying to be financially responsible adults, we're always on the hunt for something romantic to do on a rainy that's also wallet-friendly.
If you're nodding with me, you're going to love what I'm about to share with you⁠—it's a collection of the most engaging and affordable rainy day date ideas for couples I've gathered so far. Most of the ideas on this list are things we've tried and loved, but some are on my radar as activities to try on the next rainy weekend.
You ready for some rainy day romance?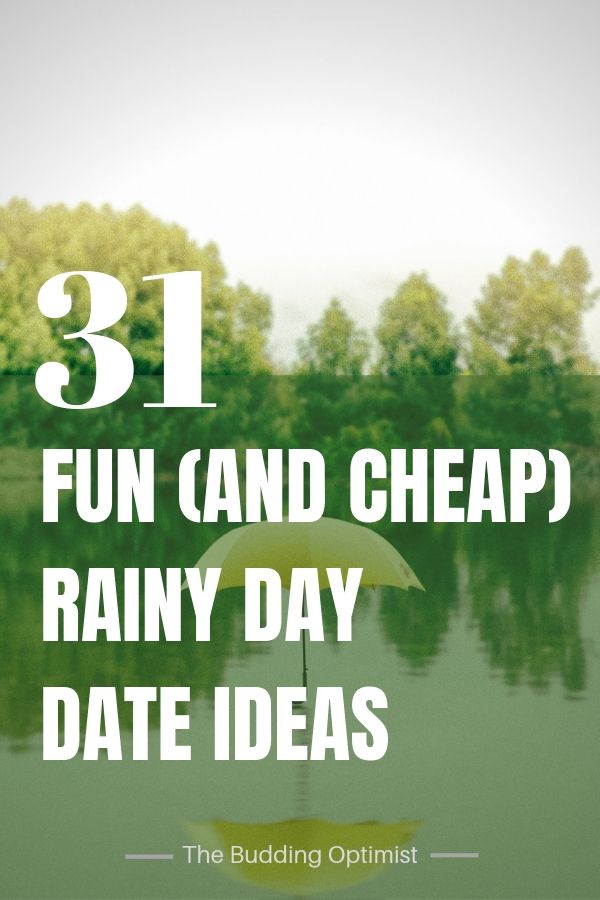 Fun Rainy Day Date Ideas at Home
These at-home date ideas will guarantee hours of good time right in the comfort of your home.
1. Plant Something Together
An indoor herb garden, a terrarium, or cat grass for your furbabies. There's no shortage of things you can plant together, as long as you're willing to get your hands dirty!
2. Learn a Hip-Hop Dance Routine Together
Unless you're both professional hip-hop dancers, this one is going to make your date both hilarious and challenging.
Check out this Youtube channel called "DANCE TUTORIALS" for a wide selection of dance routines complete with step-by-step walkthroughs.
3. Play Online Escape Room Games Together
Escape room games are interactive games where players need to find clues and solve a series of puzzles and riddles in order to "break out" of a locked room within a time limit. Sounds like an exciting date idea?
Here's the catch:
While escape room games are exhilarating, they can get a little expensive and they may not even be available in your local area.
But that doesn't mean you can't join in on the fun. There are many online escape room games you can play for free. Here's one of my favourite websites to play online escape room games.
Put your heads together to solve a mystery, or play on different devices and compete against each other to see who can break out in the shortest amount of time. Either way, you're going to have HOURS of fun!
4. Have a Smoothie-Making (And Tasting) Session
What's a healthy and delicious rainy day date idea? Have a smoothie-making session at home!
Avocado, mango, and strawberry? Or banana, blueberry, and chia seeds? Put on your experimenter's hat and try out as many combinations as you can think of. And don't be afraid to think outside the box—like this peanut butter and jelly smoothie recipe.
Then comes the best part—the tasting!
5. Create a Vision Board Together
What inspires both of you? What's your goal in life? And what are your values?
Create a vision board together with items that answer these questions. It's a great little project that'll help you discover and re-discover not only yourself, but each other.
6. Make Music Together
Get your creative juices flowing by making music together. Don't have an instrument? No former music training? That's ok! All you need is a sense of playfulness.
This free online tool allows you to put together different sounds and vocals, and record and save them as projects. Now you can make an electronic music soundtrack that's designed just for the two of you!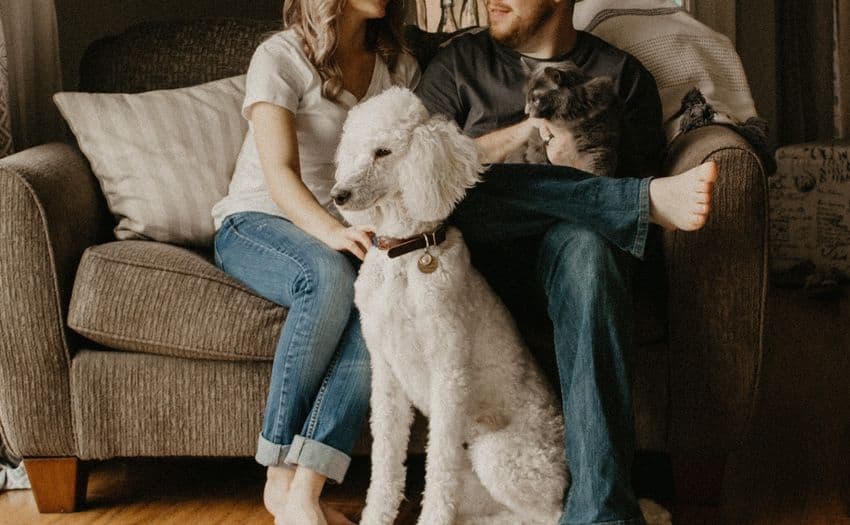 7. Have a Decluttering Date
I'm not crazy when I say decluttering can be both fun and romantic. The last time I decluttered together with my husband, we dug up some old photos we took 13 years ago when we first met that I didn't even remember taking, and we had a big laugh over how young and silly we looked. What started out as a repetitive and dreadful chore turned out to be a blast!
You see, when you declutter, you'll inevitably dig up things that contain stories and emotions—memories that will make you laugh, cry, or cringe with embarrassment. But in the end, they'll make you come closer together.
8. Make a Painting Together
Channel your inner Picasso and create something that speaks to who you are as a couple. It might not be on par with the master's work but it'll be a masterpiece nevertheless.
9. Do a Couple's Workout
Instead of lounging on the couch all afternoon, why not put your coordination skills to the test with a couple's workout? It'll get your blood moving, make you feel good inside out, and even enhance your sexuality.
10. DIY Kareoke night
Sing your favourite duet songs together in your own living room. That's right, it's time for DIY kareoke night!
Here's a tutorial on how you can set up the technology for relatively cheap, or you can just follow along to kareoke videos on Youtube without any extra gadget.
I have to admit, although my husband and I are both awful singers, this is one of our favourite things to do on a rainy day at home!
11. Learn a New Skill Together
Learning a new skill together is an excellent way for couples to bond and have fun at the same time. The key is to learn something that'll challenge the both of you and make you step out of your comfort zones—such as a new language. And the best part is you can learn almost anything online for free these days. N'est-ce pas?
12. Revisit Childhood Favourites
What were the movies, TV shows, songs, or games that defined your childhood? Take a hilarious and nostalgic trip down memory lane together by revisiting those old favourites.
13. Cook a New Type of Cuisine Together
Take this rainy day as an opportunity to spice up your cooking repertoire. If you're used to making lasagnas, try stir-frying a Pad Thai. Don't worry, if it turns out to be a spectacular failure, you can always eat ice cream for dinner.
14. Have an At-Home Spa Experience
Pamper each other with an at-home spa day. After a nice, long, and relaxing bath, give each other a stress-busting acupressure massage using these simple techniques.
15. Watch Funny Videos Together
A rainy day is the perfect excuse to cuddle together on the sofa and watch funny videos on Youtube for hours. Not only are you giving your abs a good workout, you're also doing something wonderful for your relationship. Don't believe me? According to research, couples who laugh together, stay together.
16. Plan a trip together
It'll give you something to look forward to together, and the chance to work out pesky details such as "by plane or ferry?" in advance.
17. Put Together a Puzzle
Teamwork. Patience. And problem-solving skills. These are all the things you need in a thriving relationship. The good thing is you can work on all of them by putting together a puzzle. Since you got nowhere to go on a rainy day, pour a glass of wine and start on that 1000-piece puzzle you've been putting off forever!
Fun Rainy Day Activities Outside the Home (But Still Indoors)
Want to get out of the house but not get wet? Check out these fun indoor date ideas for couples.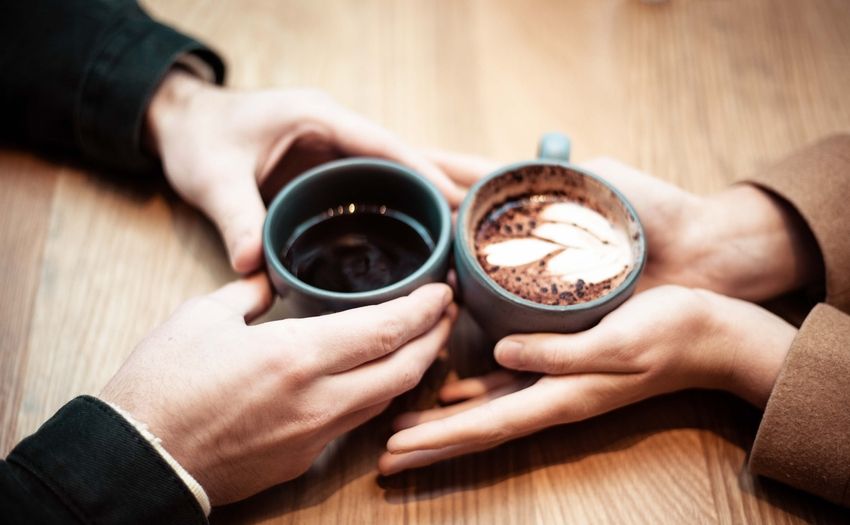 18. Have a Splashing Time at an Indoor Water Park
Who says water parks are for children only?
19. Go Skating
The ice rink provides the perfect backdrop for holding hands, laughing, and drinking hot cocoa.
20. Read Together at the Local Library
Enjoy a quiet afternoon together at the local library where you can explore new worlds inside the pages of various books.
21. Browse an Arts and Crafts Market
Feast your eyes on a kaleidoscope of interesting and unique arts and crafts at a local artisan's market. And from my experience, these markets are usually packed with the best food vendors too!
22. Try a New Coffee Shop
Here's what you do: find a coffee shop you've both never been to before, get two of their signature drinks, find a cozy corner to sit down, and just talk.
It's a simple way to connect with each other outside your realm of familiarity. And who knows, you might discover a new favourite haunt together.
23. Have an Indoor Photoshoot
The city is filled with places of wonder. Quirky shops with an eclectic collection of knick-knacks from around the world, quaint restaurants with decor that speaks of vintage chic, and modern buildings with interiors that exude sophistication.
Since you have all these amazing spaces around you, why not make good use of them by having your own indoor photoshoot? All you need is a decent phone camera and an open mind.
24. Ride the Bus or Train Through an Unfamiliar Part of Town
Be tourists for a day and take the bus or train through a part of town that you don't normally come across in your day-to-day routine. It's an exciting way to get lost for a few hours without having to travel far from home.
25. Take a Class Together
You can often find good deals on coupon sites for inexpensive classes around town. I've been to many different classes with my husband through these deal sites such as pottery making, kick-boxing, and even indoor climbing. It's an excellent way to try something new together without spending a ton of money.
26. Visit an Animal Shelter or Sanctuary
Show some love by visiting an animal shelter or sanctuary together. Better yet, volunteer there for a day if possible.
Fun Things to Do Out in the Rain for Couples
Not afraid of getting your hair wet? Give these rainy day activities a go!
27. Go Geocaching
Feeling adventurous? Put your rain boots on and go geocaching!
Geocaching is an outdoor treasure hunt where you try to find hidden containers (called "geocaches") using a GPS-enabled device such as your phone. With millions of geocaches around the world, you can expect to find many of them around you—some hidden in plain sight! Sign up for a basic free membership and start playing today!
28. Take a Nature Walk
Get closer to nature by taking a walk together in a garden, park, or forest. Remember to pause often and allow your senses to take in all the sights, sounds, and smells around you.
29. Go for a Drive
When was the last time you two went for a drive without a clear destination in mind? Go for a drive on a rainy day and let your imagination be your GPS.
30. Check Out Intriguing Buildings Around Town
Every town has buildings that turn heads. Take my neighbourhood, for example—there's a building at the top of a hill that looks like a real castle. From afar, you'll never guess that inside its formidable and regal exterior, it's actually a pub. So take an umbrella and go find these intriguing gems on a rainy day.
31. Have a Rainy-Day Picnic
Under the heavy shades of a tree. Inside a parked car. Or on a covered balcony. These are all great spots to have a rainy-day picnic where you can cuddle together, have some treats, and watch the rain together—without getting yourselves soaked through your undies.
That's it for my list of fun and affordable rainy day date ideas. What's your favourite on this list? Got a recommendation you'd like to share? Leave me a comment below!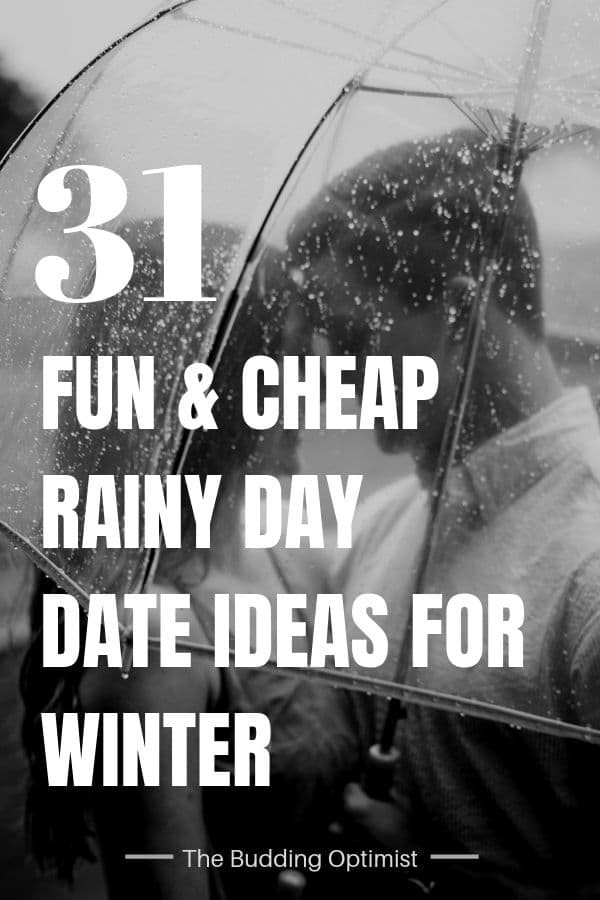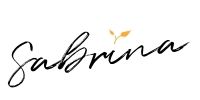 Recommended Articles in Healthy Relationships, Mental Wellbeing, and Mindset:
The One Word You Need to Say More in All Your Relationships
7 Types of People You Need to Set Boundaries With in Your Life