Quotes That Will Make You Feel Good About Loving and Caring for Yourself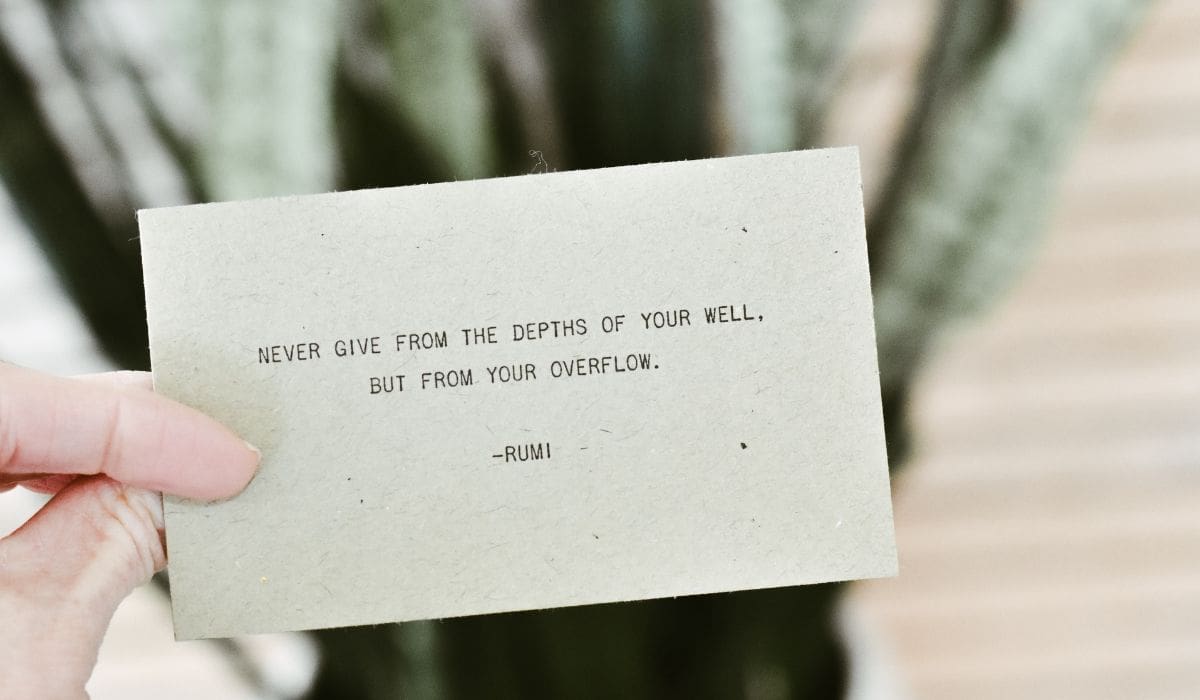 If you were to list out the top 10 priorities in your life right now, what would they be?
Is taking care of yourself on that list? And if so, did you put it near the top of your list or did you squeeze it in at the very bottom, almost like an after-thought?
Yeah, I thought so. Most of us (especially women), are willing to spend a lot of time and energy taking care of the needs of others, but when it comes to taking care of ourselves, we're stingy.
Our clients. Our boss. Our children. Our aging parents. Our friends. For God's sake, even our dog comes before us! But it doesn't have to be this way. It shouldn't.
Why You Should Practice Self-Care
There's a good reason why flight attendants tell you that in case of an emergency, you should always put your own oxygen mask on first before you help anyone else. If you're too busy tending to those around you, you miss vital opportunity to take care of your own needs. And in this case, you could end up dead.
I understand not all cases of self-neglect has this kind of extreme and immediate consequence, but it's just as bad. if you always put others before yourself and take on everybody else's problems, you're going to run yourself haggard. Stress may not kill you right away like a depressurized airplane cabin would, but it's just as deadly.
So today, I'm sharing with you a collection of 83 quotes that will inspire you to take better care of yourself. I urge you to save these quotes so you can remind yourself every day that you deserve to relax, to feel good, and to say "no" to energy-sucking time-wasters without feeling guilty.
And remember to share these quotes with someone who needs a break. It could make a huge difference in their wellbeing!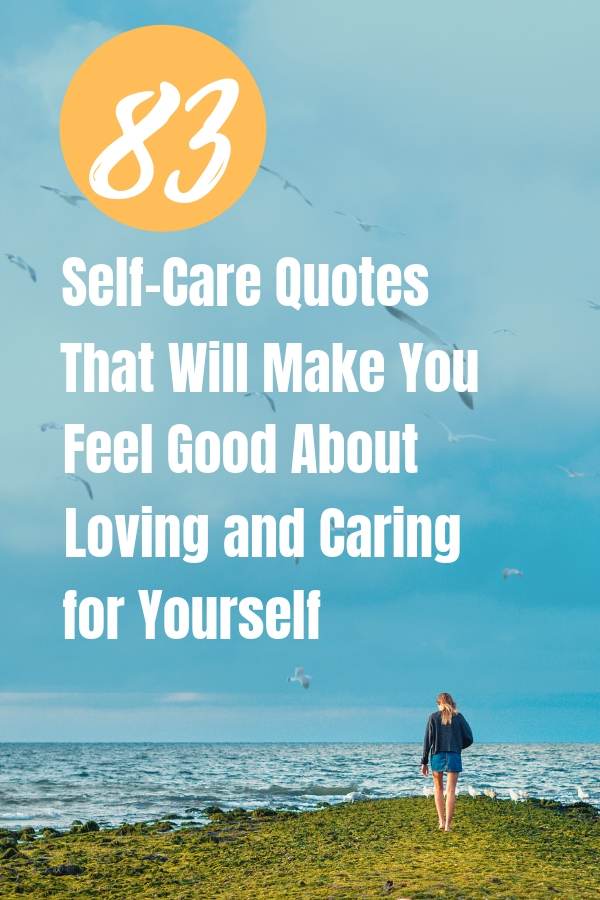 This post contains affiliate links, meaning, at no additional cost to you, I will earn a commission if you click through and make a purchase. As an Amazon Associate, I earn from qualifying purchases. Read the full (warning: it's boring) disclosure here.
Quotes About The Importance of Self-Care
"As important as it is to have a plan for doing work, it is perhaps more important to have a plan for rest, relaxation, self-care, and sleep."
― Akiroq Brost
"Self-care has become a new priority – the revelation that it's perfectly permissible to listen to your body and do what it needs."
― Frances Ryan
"Each wave that rolls onto the shore must release back to the ocean. You are the same. Each wave of action you take must release back to the peace within you. Stress is what happens when you resist this natural process. Everyone needs breaks. Denying this necessity does not remove it. Let yourself go. Realize that, sometimes, the best thing to do is absolutely nothing."
― Vironika Tugaleva
"Your subconscious mind is paying attention to how you treat yourself."
― Sam Owen, Resilient Me: How to Worry Less and Achieve More
"If your compassion does not include yourself, it is incomplete."
― Jack Kornfield
"Don't ask yourself what the world needs, ask yourself what makes you come alive. And then go and do that. Because what the world needs is people who have come alive."
― Howard Thurman
"Take rest; a field that has rested gives a bountiful crop."
― Ovid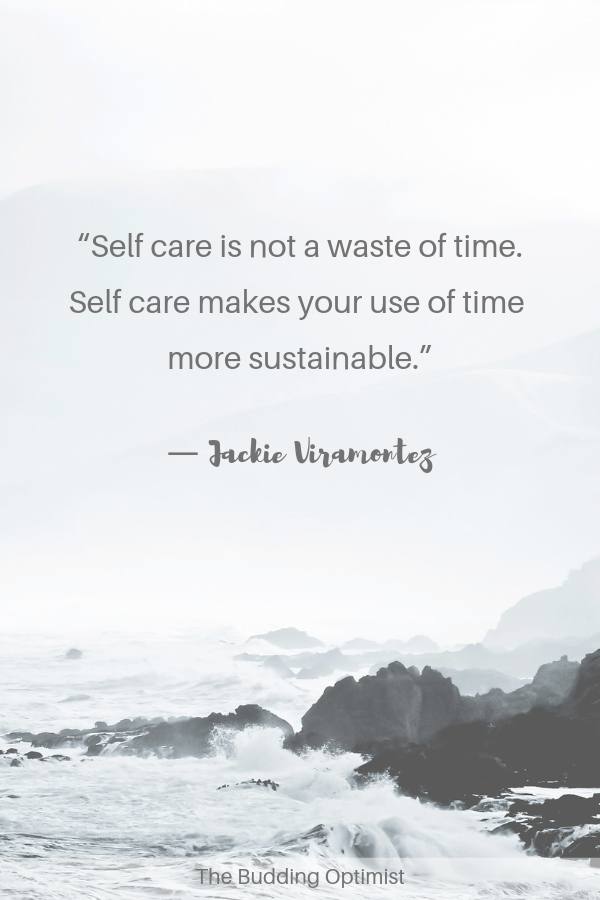 Quotes to Inspire You to Take Care of Yourself
"You aren't doing 'nothing' when you choose to put your well-being first. In fact, this is the key to having everything."
― Brittany Burgunder
"Taking care of myself doesn't mean 'me first.' It means 'me, too."
― L.R. Knost
"Self-care is never a selfish act – it is simply good stewardship of the only gift I have, the gift I was put on earth to offer others. Anytime we can listen to true self and give the care it requires, we do it not only for ourselves, but for the many others whose lives we touch."
― Parker Palmer, Let Your Life Speak: Listening for the Voice of Vocation
"I lied and said I was busy.
I was busy;
but not in a way most people understand.
I was busy taking deeper breaths.
I was busy silencing irrational thoughts.
I was busy calming a racing heart.
I was busy telling myself I am okay.
Sometimes, this is my busy –
and I will not apologize for it."
― Brittin Oakman
"Caring for myself is not self-indulgence, it is self-preservation, and that is an act of political warfare."
— Audre Lorde
"Take time off…The world will not fall apart without you"
― Malebo Sephodi
"When you can't find your purpose in a day, make it to look after yourself."
― Dodie Clark, Secrets for the Mad
"Have patience with all things. But, first of all with yourself."
— Francis de Sales
"When you get into your car, shut the door and be there for just half a minute. Breathe, feel the energy inside your body, look around at the sky, the trees. The mind might tell you, 'I don't have time.' But that's the mind talking to you. Even the busiest person has time for 30 seconds of space."
— Eckhart Tolle
"Do something nice for yourself today. Find some quiet, sit in stillness, breathe. Put your problems on pause. You deserve a break."
— Akiroq Brost
There is only one way to happiness and that is to cease worrying about things which are beyond the power of our will.
— Epictetus
"Always make decisions that prioritize your inner peace."
— Izey Victoria Odiase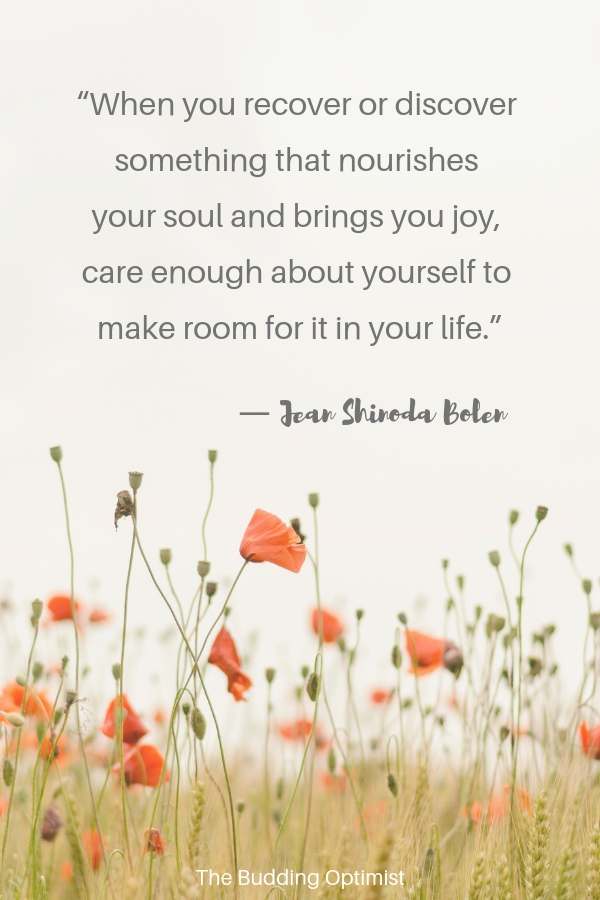 Quotes About Self Love
"To love oneself is the beginning of a lifelong romance. "
— Oscar Wilde
"You may be the only person left who believes in you, but it's enough. It takes just one star to pierce a universe of darkness. Never give up."
— Richelle E. Goodrich
"Acknowledge, accept, and honor that you deserve your own deepest compassion and love."
— Nanette Mathews
"The only person
You shouldn't be able
To live without
Is you."
— Chris Mc Geown
"Self-compassion is simply giving the same kindness to ourselves that we would give to others."
— Christopher Germer
"You keep tabs on the victories of others but failed to notice that you just crossed yet another milestone. How do you hold up the light for others but turn it out when it gets to you."
— Chinonye J. Chidolue
"Be kinder to yourself. And then let your kindness flood the world."
— Pema Chodron
"Are we really going to spend our whole lives like this, feeling the wrong shape and the wrong weight in the wrong skin?"
— Emma Woolf
"It's my choice to be beautiful. It's my choice to be ugly. And it's my choice to decide what those words actually mean."
— Virginia Petrucci
"What lies behind us and what lies before us are tiny matters compared to what lies within us. "
— Ralph Waldo Emerson
"The love and attention you always thought you wanted from someone else, is the love and attention you first need to give to yourself."
— Bryant McGillns
"A healthy self-love means we have no compulsion to justify to ourselves or others why we take vacations, why we sleep late, why we buy new shoes, why we spoil ourselves from time to time. We feel comfortable doing things which add quality and beauty to life."
— Andrew Matthews
Find peace with yourself by accepting not only what you are, but what you are never going to be.
— Unknown
"When you love people, you are curious about who they are, what they think, and how they feel. You watch them closely, wondering about their experience and what you can do to make it more enjoyable. You feel compassion for their pain and seek to make it more bearable. You are eager to learn the unique language of their existence. You want to under-stand them, inspire them, heal them. What if you could look at yourself this way?"
— Vironika Tugaleva, The Art of Talking to Yourself
"Be you, love you. All ways, always."
— Alexandra Elle
"The most powerful relationship you will ever have is the relationship with yourself. "
— Steve Maraboli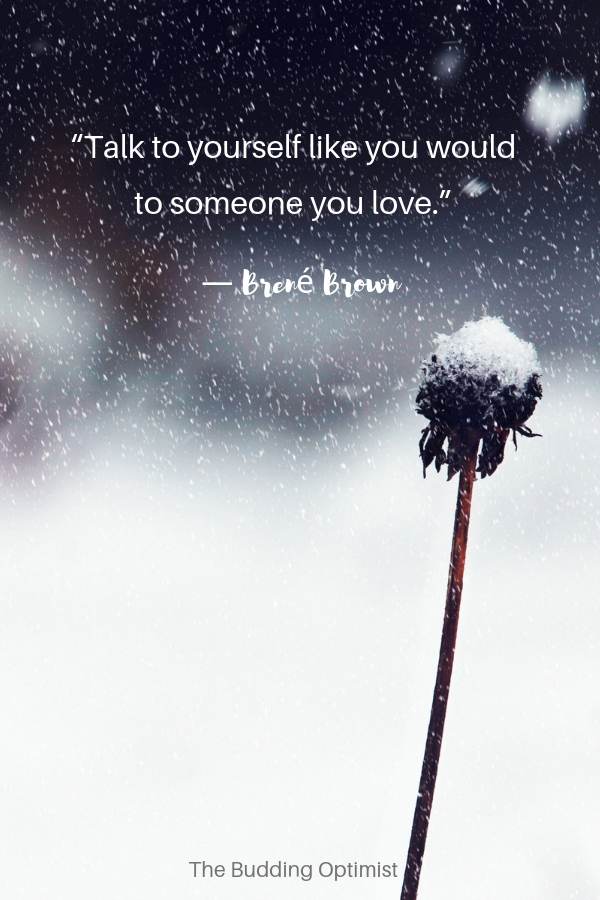 Quotes About the Importance of Boundaries
"Gard the doors of your temple, do not let anyone pollute it with there mess."
— Patricio Telman Chincocolo
"Love yourself enough to set boundaries. Your time and energy are precious. You get to choose how you use it. You teach people how to treat you by deciding what you will and won't accept."
— Anna Taylor
"There is no cowardice in removing yourself from a wildly unhealthy and unwinnable situation . . . You shouldn't feel like you have to play . . . you don't owe anyone anything. You don't have to be available to everyone. You can stop."
— Scaachi Koul, One Day We'll All Be Dead and None of This Will Matter
"Your time is way too valuable to be wasting on people that can't accept who you are."
— Turcois Ominek
"if you want to live an authentic, meaningful life, you need to master the art of disappointing and upsetting others, hurting feelings, and living with the reality that some people just won't like you. It may not be easy, but it's essential if you want your life to reflect your deepest desires, values, and needs."
— Cheryl Richardson, The Art of Extreme Self-Care: Transform Your Life One Month at a Time
"Nobody can hurt me without my permission."
— Mahatma Gandhi
"Knowing how to be solitary is central to the art of loving. When we can be alone, we can be with others without using them as a means of escape."
— Bell Hooks
"Saying no can be the ultimate self-care."
— Claudia Black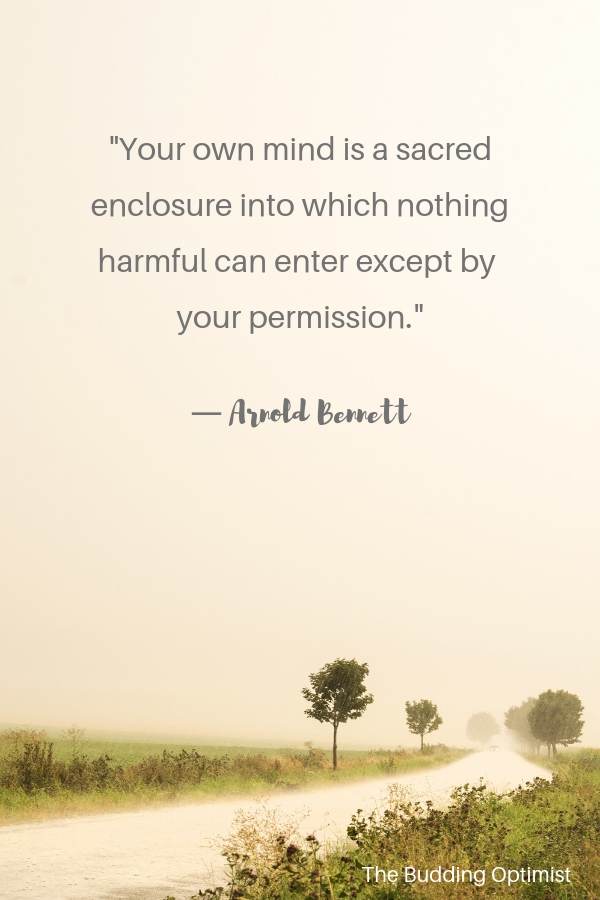 Quotes About Taking Care of Yourself Before Others
"Self-care is not selfish. You cannot serve from an empty vessel."
— Eleanor Brownn
"You cannot breathe life into someone refusing to inhale."
— Colleen Songs, Inhale
"If you want to help her, you need to help yourself first. No one serves their friends by grinding themselves into dust on the altar of compassion."
— Seanan McGuire, In an Absent Dream
"Selfishness at the expense of others is bad. Self-care for the betterment of others is good."
— Richie Norton
"We must treat ourselves with care, respect and compassion before we can effectively extend these things to others."
— Kristi Bowman, A Butterfly Life: 4 Keys to More Happiness, Better Health & Letting Your True Self Shine
"Self-care is the number one solution to helping somebody else. If you are being good to yourself and your body and your psyche, that serves other people better, because you will grow strong enough to lift someone else up."
— Mary Lambert
"While we can offer our guidance and a shoulder to cry on, our responsibility does not lie in fixing others and their problems. We need to draw the line when it comes to giving help and remember that other people must ultimately take responsibility for their happiness, not us."
― Aletheia Luna, Awakened Empath: The Ultimate Guide to Emotional, Psychological and Spiritual Healing
"In dealing with those who are undergoing great suffering, if you feel "burnout" setting in, if you feel demoralized and exhausted, it is best, for the sake of everyone, to withdraw and restore yourself. The point is to have a long-term perspective."
— Dalai Lama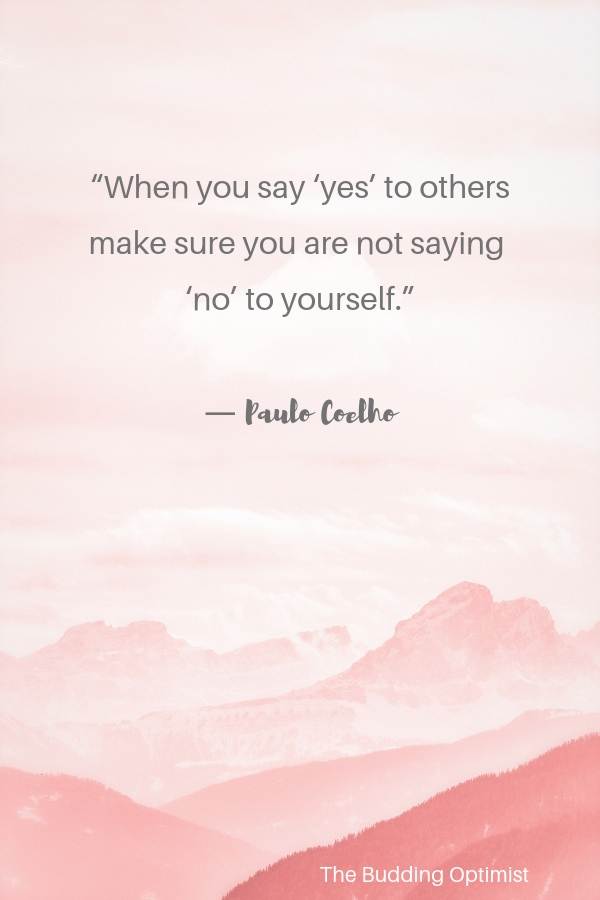 Quotes About Taking Care of Your Body
"Sleep is our recharge function and our reset button…and we all need a reset button sometimes."
— Sam Owen, Resilient Me: How to Worry Less and Achieve More
"When the body forces you to STOP it's saying, hey buddy, you've gone too far."
— Jacqueline Escolme
"If you are not sleeping, eating, and exercising, then all of this will be for naught. These core self-care skills are fundamental to your life and functioning. We can not expect to grow and move forward as people if we do not get the basics right."
— 7Cups, 7 Cups for the Searching Soul
"The Best Health Care Plan Is A Self Care Plan"
— Nina Leavins
"Sometimes the most important thing in a whole day is the rest we take between two deep breaths."
— Etty Hillesum
"Those who have not time for bodily exercise will sooner or later have to find time for illness."
— Edward Stanley
"Take care of your body. It's the only place you have to live."
— Jim Rohn
"Learn to relax. Your body is precious, as it houses your mind and spirit. Inner peace begins with a relaxed body."
— Norman Vincent Peale
"Our bodies play a huge role in the accomplishment of our goals and our overall happiness. Embodiment… is about tuning into our physical bodies and learning ways to support our health and well-being so that we can do what we need to do, and enjoy the journey."
— Kristi Bowman, A Butterfly Life: 4 Keys to More Happiness, Better Health & Letting Your True Self Shine
"Do something everyday that is loving towards your body and gives you the opportunity to enjoy the sensations of your body."
— Golda Poretsky
Self-Care Quotes for Moms
"Becoming a parent doesn't make you less of a woman. You matter. Your happiness matters. Your health matters. Your dreams matter. Today do at least one thing for you. Take a walk in the rain. Meet a friend for coffee. Write in your journal. Read a book. Plan a trip. Hug a tree. Help a stranger. Create something. Grow something. Sing something. Learn something. Whatever it is that makes you smile, do a little of it each day. Your children are watching. Let them see you happy."
— L.R. Knost
"Women in particular need to keep an eye on their physical and mental health, because if we're scurrying to and from appointments and errands, we don't have a lot of time to take care of ourselves. We need to do a better job of putting ourselves higher on our own 'to do' list."
— Michelle Obama
"No more martyring myself."
— Sharon E. Rainey
"It's not selfish to love yourself, take care of yourself, and to make your happiness a priority. It's necessary."
— Mandy Hale
"You are a VIP, a very important person so take care with self care. If not you, who? If not now, when?"
— Toni Hawkins
"Be kind to your body, gentle with your mind and patient with your heart. Stay true to your spirit, cherish your soul and never doubt yourself. You are still becoming, my love, and there is no one more deserving of the nurturing grace of your love."
— Becca Lee
"If I am not good to myself, how can I expect anyone else to be good to me?"
— Maya Angelou
"For those of you who struggle with guilt regarding self-care, answer this question: What greater gift can you give to those you love than your own wholeness?"
— Shannon Tanner
"It does not do any good to be a rundown martyr. Strive to lead by example and become a model of healthy, vibrant self-care!"
— Dr. Carla Marie Greco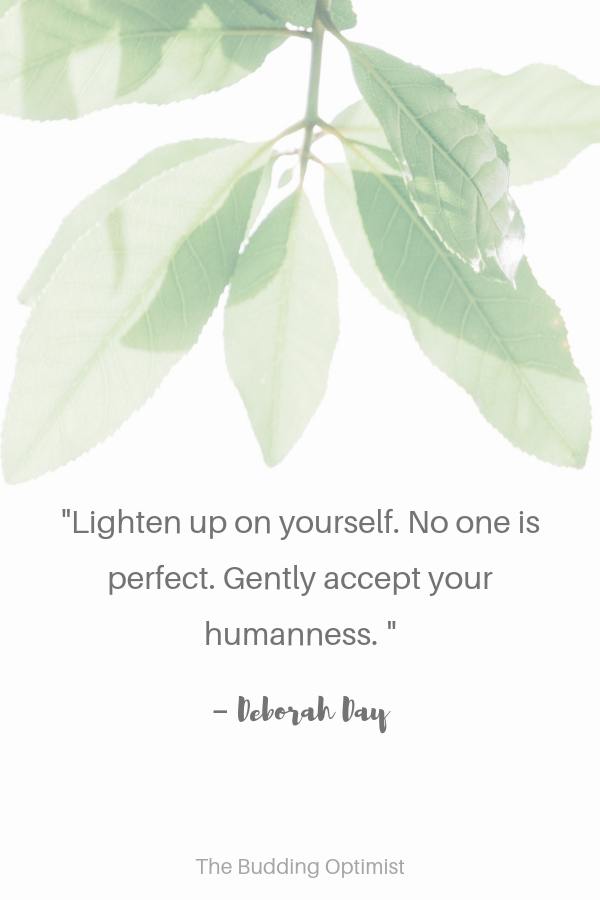 Funny Self-Care Quotes
"I used to be self -conscious about my height, but then I thought, fuck that, I'm Harry Potter."
— Daniel Radcliffe
"Learning to treat ourselves lovingly may at first feel like a dangerous experiment."
— Sharon Salzberg
"Low self-esteem is like driving through life with your hand-break on."
— Maxwell Maltz
"Accept who you are. Unless you're a serial killer."
— Ellen DeGeneres
"I have an everyday religion that works for me. Love yourself first, and everything else falls into line."
— Lucille Ball
Which of these self-care quotes did you like best? Let me know by leaving a comment below!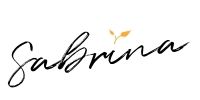 Recommended Articles Related to Self Love and Self-Care:
The Secrets to Loving Yourself Unconditionally
Why You Need to Set Boundaries With These People in Your Life
A Simple Tip to Help You Gain More Confidence (Plus Inspirational Quotes)